Submitted by

admin

on Sat, 05/12/2018 - 17:01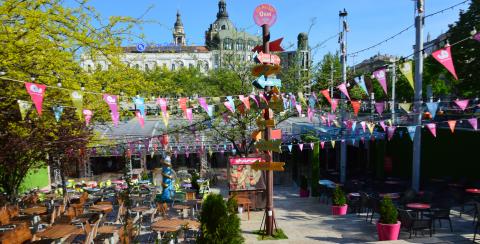 This year we're bringing OpenStack Budapest to one of the city's best-known venues, Akvárium. What makes the spot ideal for the annual meetup?
1. The location
Situated in the heart of Pest, right in the middle of Deák square, the surroundings are ideal for several different programs, ranging from a cold lemonade in the afternoon to a loud concert at night. The square around it is a well-known and extremely famous spot for young adults alike, who are often found in the area doing several activities, including street music and yoga.
2. The building itself
After the renovation in 2014, Akvárium became one of the most modern venues in the country. Equipped with hi-tech sound and light system, both its concert rooms can be changed in order to suit any genre, show or event.
3. A lot more than a club
Even though Akvárium might be best known for its nighttime events and the wide range of concerts from artists from Hungary and abroad as well, it offers a lot more. Other than an indoor and an outdoor bar, the venue has a huge terrace, which has already hosted several workshops before. Surrounded by creative design, trees and plants, we completely understand why it's such an inspiring environment.
4. Solution for hunger too
Having read through the points so far, you're fair to ask: what are the options for food during a day-long event? Don't worry, Akvárium has you covered! Their famous Magenta Café offers special bistro food, and is open for everyone from noon till 6 pm. After the meals are no longer available, you can still pick up authentic bar food until the closing hour.
5. Great capacity
Of course the two halls can host lots of people, about 2.000 souls combined, the other parts of the venue are also capable of having large numbers. The outdoor part, called VOLT Lokál is able to have about 150 more people, while the indoor bistro is suitable for 50 more.
6. Similar events
Having read all the points so far, you're free to ask – does a concert venue fit OpenStack? Our answer is a clear yes! Even last year, Akvárium hosted a few IT-related events, including a presentation regarding future workplaces, and a PC gaming test day, where the attendants could experiment with the latest Radeon RX Vega graphics card.